Paris the Record
Paris the Record of Paris Hilton
Paris is Paris Hilton's debut album, released on her own label, Heiress Records, in association with Warner Bros. Records. The album was released in the U.S. on August 22, 2006. The entire album was posted on AOL Music on August 13, 2006, causing the album to be leaked on the internet before the release date.
Video: Paris Hilton "Nothing in this World":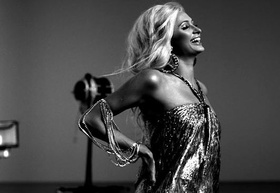 History
Hilton first announced plans to record an album in 2003. In 2004, she met with producer Rob Boldt and began recording demo tracks. While collaborating with Boldt, Hilton came across the song "Screwed". Hilton recorded a demo for the song and began talking about it in many interviews, saying it would be the first single from the album. That same summer, Haylie Duff said in an interview that "Screwed" was actually going to be recorded by her and would be the first single from her album. The two girls began a legal battle for the song. Not long afterwards, Duff was dropped by her record label which allowed Paris to claim the song as hers.
In 2005, Hilton was signed to Warner Bros. Records for distribution of her album. At that time, Hilton began working with Rob Cavallo, who had produced tracks for Green Day, Jewel, and Alanis Morissette. Initially, the album was planned to have a pop/rock sound. However, Hilton decided to move towards a pop/hip-hop sound after meeting with Scott Storch in Miami. After months of collaboration with Storch, the album was finally complete and ready for release.
Producers for Paris included Greg Wells, Kara DioGuardi, Jane Wiedlin and Scott Storch. Hilton collaborated with Fat Joe and Jadakiss on the song "Fighting Over Me." The first single from Paris, "Stars Are Blind," produced by Fernando Garibay, was released for download on June 20, 2006 and peaked at number eighteen on the Billboard Hot 100; "Turn It Up" and "Nothing in This World" followed as worldwide singles. Allmusic commented that the album was "more fun than anything released by Britney Spears or Jessica Simpson, and a lot fresher, too." On the whole, critical reception was mixed.
Banksy
In August 2006, British graffiti artist Banksy and hip-hop producer and Gnarls Barkley member Danger Mouse replaced 500 copies of Paris Hilton's album in British music stores (HMV) with altered album artwork of Paris Hilton topless with a dog head and a 40 minute instrumental song containing various statements she had made. Those 500 album copies were quickly removed from shelves after several complaints about it. Hilton had delayed the album's release to include a cover of the Gnarls Barkley song "Crazy" (co-written by Danger Mouse), though it was not included in the final release. Gnarls Barkley and Hilton share a record company.
Track listing
"Turn It Up" (Scott Storch, Anthony Asher, Jeff Bowden, Paris Hilton) – 3:12
"Fightin' over Me" (featuring Fat Joe & Jadakiss) (Storch, Magnet, Fat Joe, Jadakiss, Jackson, Jackson, Hilton) – 4:01
"Stars Are Blind" (Fernando Garibay, Sheppard Solomon, Ralph McCarthy) – 3:56
"I Want You" (J. R. Rotem, DioGuardi, Bogart, Gibb) – 3:12 (sampled from "Grease" by Frankie Valli)
"Jealousy" (Storch, DioGuardi, Hilton) – 3:40
"Heartbeat" (Storch, Billy Steinberg, Josh Alexander) – 3:43 (sampled from "Time After Time" by Cyndi Lauper)
"Nothing in This World" (Lukasz "Dr. Luke" Gottwald, Solomon) – 3:10
"Screwed" (DioGuardi, Wells) – 3:41
"Not Leaving without You" (Kara DioGuardi, Wells, Hilton) – 3:35
"Turn You On" (Storch, Hilton, Jackson, Jackson, Triggs) – 3:06
"Do Ya Think I'm Sexy?" (Stewart, Appice, Hitchings) – 4:34
Your comments : Paris the record