La Flèche d'Or - Paris

La Flèche d'Or is a club and concert venue in Paris' edgy Gambetta district whose tumultuous existence has only boosted its mystique.
The club has the hottest acts in indie rock, experimental electro, edgy groove and funk.
La Flèche d'Or retains an open, spacious and industrial feel.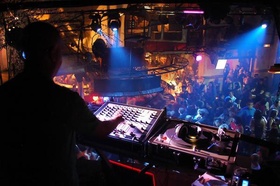 La Flèche d'Or has a full restaurant offering late-night noshing fare like hamburgers and mixed salads, in addition to traditional French dishes. On Sundays starting at 12 pm, the restaurant serves brunch set to live music.
Check the Flèche d'Or Agenda, for info on schedules and concerts.
La Flèche d'Or - Paris
Address :
102 bis rue de Bagnolet
Zip code :
75020
City :
Paris - France
Area :
No location
Website :
La Flèche d'Or - Paris
Opening hours :
Tuesday through Friday, 8:00 pm to 2:00 am; Saturday to Sunday, 8:00 pm to 6:00 am.
Phone :
+33 (0)1 44 64 01 02
Metro/Bus :
Porte de Bagnolet or Gambetta (line 3)
Your comments : La Flèche d'Or