Ave Maria Paris
Ave Maria
Ave Maria is a really fun place for an evening out with dinner. Crazy, colourful inside setting, huge portions of very tasty and varied ethnic food.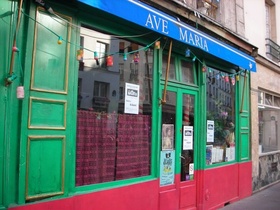 This lively restaurant serves delicious Creole cuisine and amazing drinks, friendly staff, interesting customers.
We enjoyed the evening there a lot. Go for the experience, you will not be disappointed. Has a very studenty feel to it.
Ave Maria Paris

Address : 1, Rue Jacquard
Zip code : 75011
City : Paris - France
Area : Marais, Notre-Dame
Opening hours : Monday - Sunday : from 6:30pm till 02:00am
Prices : dishes €12-15
Phone : 01 47 00 61 73
Metro/Bus : Oberkampf / Parmentier
Your comments : Ave Maria