Chez l'Ami Jean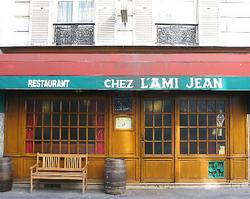 Chez L'Ami Jean was opened by a Basque nationalist in 1931, and fans claim its Basque cuisine and setting are the most authentic on the Left Bank of Paris. Today chef Stéphane Jégo is in charge of the place. It is certainly the best bistrot at this time in Paris.
Stéphane Jégo is waiting for its first étoile from the Guide Michelin. While then you should go there fast..
It's just great for the price with for example a menu at 29 euros.
A la carte you can choose among dishes like one the greatest Bayonne ham we ever had " Jambon de truie Arrossagaray" ; herb-laden Béarn-influenced vegetable soups; Côtes de veau ( slices of veal with fresh herbs, onions, red Espelette peppers) for 2 at 52 €, Confit of duck with small potatoes (23€); Pigeon fermier 30€, Ris de veau de lait de Corréze (32€)...
In springtime, look for a specialty rarely available elsewhere: saumon de l'Adour (Adour salmon) with béarnaise sauce.
Great sweets as well!!
Enjoy well selected wines like Chablis Guy Robert (24 €), Tempranillo (24 €), Cahors Clos Siguier (21 €) and a great Côte Rôtie...
Chez l'Ami Jean
Address :
27 rue Malar
Zip code :
75007
City :
Paris - France
Area :
Eiffel & Trocadéro
Website :
L'Ami Jean - Paris
Opening hours :
Tues-Sat: noon-2pm and 7pm-midnight
Phone :
01 47 05 86 89

Your comments : chez ami Jean