Le Meurice
Le Meurice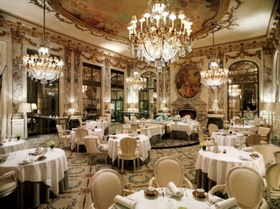 Amazing French-style gourmet restaurant set in the well-known Le Meurice hotel. Expensive but considered one of the best in Paris.
If you are looking to have a true 5-star gastronomic experience in Paris, Le Meurice is definitely worth the splurge.
Enjoy the delicacies of savor creative cooking to which 3-star world-renowned head Chef Yannick Alléno, maître d'hôtel, Sébastian Rival, and their entire staff make sure that everything is top notch. One of the most beautiful dining rooms in Paris. The chef's repertoire combines the finest traditional ingredients of French cuisine and the creativity of Nouvelle Cuisine.
The extensive wine list offers excellent and rare vintages to choose from.
The china was specially created by Limoges for Le Meurice, matching the mosaic patterns on the floor.
Le Meurice is definitely a gourmet and a very classy restaurant in Paris, near the Louvre, that seems to transport you back in time about 300 years to an age of elegance, style, grace and beauty.
Le Meurice
Address :
228, rue de Rivoli
Zip code :
75001
City :
Paris - France
Area :
Louvre, Opéra, Chatelet
Email :
reservations
SPAMFILTER
@lemeurice.com
Website :
Le Meurice - Paris
Opening hours :
Lucnh 12h30 - 14h00 Dîner 19h30 - 22h00
Phone :
+33 1 44 58 10 10
Phone 2 :
+33 1 44 58 10 55
Your comments : Le Meurice