Pascade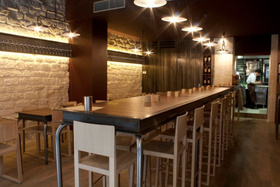 At Pascade, the Michelin-awarded chef and owner of SaQuaNa in Honfleur, renders a warm tribute to his native Aveyron.
Having always proposed this typical Aveyron crepe to his Normandy clients, Alexandre Bourdas decided it was time for Parisians to discover it.
The restaurant is the result of a childhood friendship forged in the back row of school at Rodez in the south of France, between Bourdas and his now wine waiter Sébastien Pradal. The two friends have been working on the project in great secrecy for over a year. The final result is a contemporary canteen with a stylish and warm decor of iron, wood and stone, and where one can "eat in 45 minutes", as promises the chef.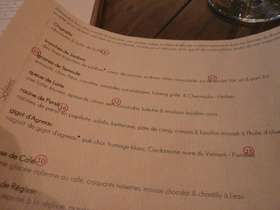 The menu is tucked into a nook carved out of the table and has be rolled out, parchment-style, to be read. The menu's concept is the pascade, a light crepe typical of the Aveyron department. Here, it is delivered in 6 savoury versions and 4 sweet versions. The 'originelle', with chives and truffle oil, is a nod to SaQuaNa where Alexandre Bourdas has served it as an appetizer since the restaurant's beginning. The other pascades vary in function of the day's market, the season and the chef's inspiration. For example, the semolina pascade is a daring mix of carrot, caramelised almond and grilled herring, whilst the leg of lamb pascade is served with bak-choy and Vietnamese black cardamom. In a simpler version, the sliced ham pascade comes with endives, garlic paste and bread croutons, achieving a delicious balance of textures. The pascade itself is crisp on the edges and melts in the middle, just like a perfect, runny omelette.
The sweet versions are even better, such as the pascade with licorice-stewed pineapple pieces and mandarin chunks huddled under a cocoa butter and caramel mousse.
By Vanessa Besnard for Terroirs de Chefs
Pascade
Address :
14 rue Daunou
Zip code :
75002
City :
Paris - France
Area :
Louvre, Opéra, Chatelet
Website :
Pascade - Paris
Opening hours :
From 12am to 3pm and from 7pm to 11pm // Closed Saturday and Sunday
Phone :
+ 33 (0)1 42 60 11 00