Cabaret! Dinner and Show tours in Paris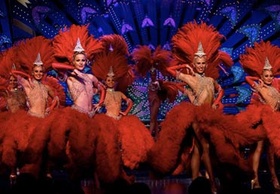 Another major mistake while in Paris would be not to enjoy a show at Moulin Rouge, Lido or Paradis Latin or a Paris Seine River Dinner Cruise!!
Ahh French Cancan!! Great souvenirs for sure!!
Our advice is to choose a dinner and show tour to appreciate both french gastronomy and show!
Ring in the New Year while dancing at the elegant Paradis Latin! Celebrate New Year's Eve in Paris with a gourmet, 4-course dinner followed by the...
More infos
Enjoy an evening dinner show at the Moulin Rouge the number one show in Paris. With a choice of three different dinner menus, don't miss your chanc...
More infos
It's show time in Paris at the Paradis Latin, the most Parisian cabaret in town. For the ultimate evening in Paris' atmospheric Latin Quarter, enjo...
More infos
Enjoy a memorable night out in Paris by combining a visit to the Eiffel Tower and Seine River cruise with a cabaret show at the Moulin Rouge. Enjoy...
More infos
Experience the heady nightlife of Paris with a three-course dinner and show at the Paris Moulin Rouge, home of the French Cancan in bohemian Montma...
More infos
Dine at 58 Tour Eiffel on the 1st floor of the Eiffel Tower to enjoy panoramic views of Paris followed by a romantic Seine river cruise. Finish the...
More infos
Experience French cuisine and culture as you discover the home of the Cancan in Paris while enjoying the cabaret of the Moulin Rouge. You have a ch...
More infos
See Paris' top city attractions and catch the Moulin Rouge's latest cabaret spectacle on this 6-hour Seine River dinner cruise with Moulin Rouge sh...
More infos
Treat yourself to an unforgettable night in Paris with dinner on the Eiffel Tower and a Seine river cruise. Take in views of the Champ de Mars, Les...
More infos
Enjoy beautiful views of top city attractions and a delicious 4-course dinner on this 4-hour evening Seine River cruise in Paris. Depart from benea...
More infos
Spend a magical night out on the town in Paris. Start your evening with a lamp-lit cruise along the Seine River, then see more of Paris' city light...
More infos
Your comments : Dinner and Show tours in Paris