Sales in Paris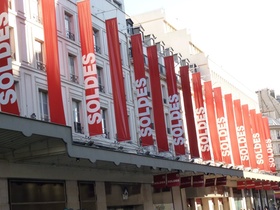 Sales which are called in French "Soldes" are state-regulated in France and generally run during two periods of the year:
- once in summer around summer day and La Fête de la Musique
- and once in January, shortly following New Year's day.
Sales last six weeks and prices are gradually slashed over the course of the sales period. Every shop, department stores, boutiques, designer outlets clear out items from the previous season.
The 2013 summer sales will begin June 26 and last until July 30, 2013
The 2014 winter sales in Paris will start January 8 to end February 11, 2014.
A great occasion to visit Paris and shop… Get ready with our Paris shopping guide
Enjoy les Soldes!!
Your comments : Sales in Paris