Parking in Paris
Parking in Paris
Parking in Paris is rarely easy and can often be quite a headache. Finding parking in Paris can be one of those exercises in frustration that might seem like it would make a funny story later, but in reality is just frustrating.
1st choice: Park your car in your hotel parking. Might look expensive at first, but we strongly recommend it if you want hassle free parking.
Street parking in Paris is relatively inexpensive, but difficult to find.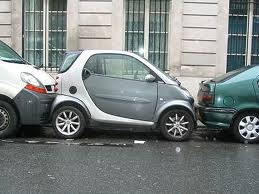 If you decide to park in the street, please note that as a general rule it is payable from Monday to Saturday, 9am to 7pm. Night time and Sundays are free. On public holidays and during the month of August you can sometimes park free of charge in certain streets: this is indicated by a yellow sticker placed on the parking meter.
Tariffs are divided into 3 zones, ranging from an hourly rate of €3 in the centre of Paris, to €1 per hour on the outskirts. Parking meters do not accept coins and only take the "Paris Carte" card, available in tobacconists for €10 to €30. The machine will give you a ticket in exchange, which should be placed behind your windscreen, clearly visible from the outside. Beware...street parking is limited to 2 hours.

Parking campers or motor-homes in Paris should be avoided, so as not to block traffic. Instead you should head for the designated parking spaces at camp sites. In Paris, it is prohibited to sleep in your motor-home.
Underground car parks, of which there are many in Paris, (map with all parkings) are open 24 hours a day, 7 days a week, for cars and motorbikes. They can be identified by a white "P" on a blue background, and can usually be found in busy shopping, tourist or business areas. Security is provided by guards and cameras. Tariffs vary depending on the neighbourhood: in the city centre and busy tourist areas, you need to allow around €2.50 for 1 hour, €5 for 2 hours and €20 or more for 12 to 24 hours. On the outskirts of Paris; prices are generally lower and you might pay on average from €10 to €15 for 24 hours. Underground car parks can also offer special tariffs for the weekend or by the week or month.