Paris Beauvais Airport Airlines and Terminals
Paris Beauvais Airport handled 2.9 million passengers in 2010 going to 45 destinations.
3 low-cost airlines serve this airport:
Blue Air
Wizz Air
Ryanair
Blue Air destinations from terminal 1 are mainly: Bacau and Bucharest-Baneasa
Wizz Air destinations from terminals 1 and 2 are: Bucharest-Baneasa, Cluj-Napoca, Gdansk, Katowice, Poznan, Sofia, Timisoara, Warsaw, Wroclaw.
Ryanair destinations - from terminals 1 and 2 are: Alicante, Barcelona, Bari, Bologna, Bratislava, Brindisi, Cagliari, Dublin, Edinburgh, Faro, Fez, Girona, Gothenburg-City, Kaunas, Krakow, Madrid, Malaga, Marrakech, Milan-Orio al Serio, Nador, Oslo-Rygge, Parma, Pau, Pescara, Pisa, Porto, Prestwick, Rome-Ciampino, Reus, Santander, Seville, Stockholm-Skavsta, Tangier, Tenerife-South, Trapani, Treviso, Turin, Valencia, Verona, Zaragoza.
There are two terminals at Beauvais Airport: T1 & T2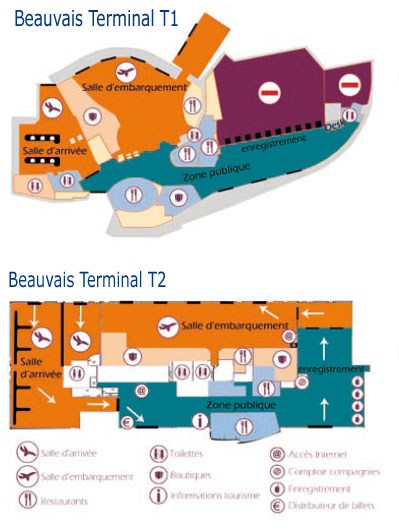 Your comments : Paris Beauvais Airport Airlines and Terminals