Le Régine - Paris
Le Régine was founded in 1956 by Regina Zylberberg known as Régine
Celebrities like Ava Gardner, Gene Kelly, Audrey Hepburn and Charlie Chaplin regularly graced the legendary halls in the early '60s. A decade later, the club moved to the basement Champs-Élysées location, where it still resides today.
It's changed hands so many times, few clubs have been so regularly hyped up, deserted and hyped up again.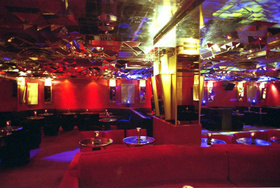 Currently run by a hip, youngish Paris crowd of graphic artists & entrepreneurs, the style of music can be very variable, but a quick look at their line up proves that they know their music. The revamped venue has shifted from disco to sophisticated electro, inviting the cream of international DJs to the decks. Fifty years later, the club is still catering to the beautiful people.
Style-control at the entrance. You have to fit in the "concept" to have a chance to get in.
Le Régine - Paris
Address :
49-51, rue de Ponthieu
Zip code :
75008
City :
Paris - France
Area :
Champs-Elysées, Arc de Triomphe
Email :
contact
SPAMFILTER
@lafrench.com
Website :
Le Régine - Paris
Opening hours :
Tue-Sat, from 23:00
Phone :
+33143592113
Metro/Bus :
Saint Philippe du Roule (310 m) - Franklin D. Roosevelt (360 m)
Your comments : Le Régine