Madam - Paris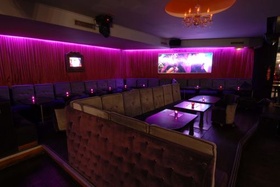 Madam opened by the promoters of Dentelle de Luxe at Man Ray, Madam has cool decor and clientele. It's not members only, though the door is very selective. To our point of view it's quite funny but a bit dancing on banquettes place... Electro-house music...
Madam - Paris
Address :
128 rue la Boétie
Zip code :
75008
City :
Paris - France
Area :
Champs-Elysées, Arc de Triomphe
Email :
contact
SPAMFILTER
@madam.fr
Website :
Madam - Paris
Opening hours :
Open Thur-Sat 11.30pm-5am.
Prices :
Admission free
Phone :
+33 (0)1 53 76 03 15
Metro/Bus :
Métro Franklin Roosevelt