Best department stores and shopping centers in Paris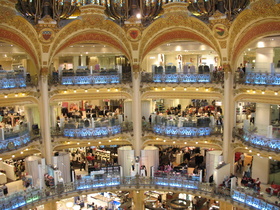 In Paris specifically we call departments stores and shopping centers the "grands magasins".
Most of them have restaurants, cafés, gourmet food stores, beauty salons, bookstores..
Parisian appreciates these departments stores because it's easy for shopping as all brands have their corner.
If you stay only one day in Paris these department stores are made for you!
Good to know:
Opening times: Shopping centers and department stores are open from 9am to 8:30 or 9:30pm.
Shops are open from Monday to Saturday. Closed on Sunday, public holidays and August.
How to pay: most people pay with a credit card. In France, consumers pay for their shopping at the price of TTC - toutes taxes comprises, it means the price is including tax.
Tax Free: residents from outside the European Union may have their Value Added Tax (VAT) returned for purchases of more than €90.15.
Find also in Paris landmarks all the shops in Paris
Address : 64 boulevard Haussmann
Opening hours : Mon-Sat 9.30am-7pm, Thu -10pm
Phone : +33-1-4282 5000
Metro/Bus : Havre-Caumartin
Au Printemps was built in 1923 with a magnificent stained glass dome.
Today this unique parisian department store has one of the world's largest perfume selections in its beauty department and much more...
Address : 40, boulevard Haussmann
Opening hours : Monday through Saturday from 09:30 am to 07:30 pm - Late night opening every Thursday until 9 pm - Closed on Sundays
Phone : 01 42 82 34 56
Metro/Bus : Metro stop : Chaussée d'Antin La Fayette . RER: Auber
Visit the Galeries Lafayette in Paris, the France biggest department store...
Address : 22 rue de Sèvres
Opening hours : Mon-Sat 9.30am-7pm, Sat -8pm
Phone : 01 44 39 80 00
Metro/Bus : Metro: Sèvres-Babylone
Le Bon Marché was the first department store ever created in Paris.
Designed by Gustav Eiffel and opened in 1852. Today one of the best place for shopping in Paris..
Your comments : department stores