Au Printemps Haussmann - Paris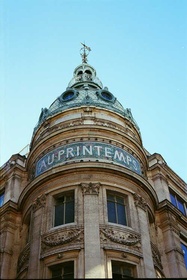 Au Printemps was built in 1923 with a magnificent stained glass dome.
Today this unique parisian department store has one of the world's largest perfume selections in its beauty department.
The Printemps is perfect for shopping in only one place and finding all what Paris can offer you: women's fashion, accessories, luxury, beauty care, home decoration, men's fashion and no more than 6 restaurants that are great for a relaxing lunch under our magnificent 1923 "Art Nouveau" Cupola..
Shopping and a tasty break at the same time...
Au Printemps Haussmann - Paris
Address :
64 boulevard Haussmann
Zip code :
75009
City :
Paris - France
Area :
Louvre, Opéra, Chatelet
Email :
infos
SPAMFILTER
@printemps.com
Website :
Au Printemps - Paris
Opening hours :
Mon-Sat 9.30am-7pm, Thu -10pm
Phone :
+33-1-4282 5000
Metro/Bus :
Havre-Caumartin
Your comments : Au Printemps