Cavestève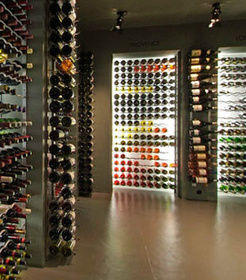 Cavestève is a great wine shop in Paris
Jean-Christophe Estève, wine trader of Bordeaux, founded this shop in the district of the Bastille and gave its name to it. Very quickly, the place becomes one of the finest addresses for all amateurs of wines and the fame exceeds the district.
In March 2006, Antoine Borgey, founder president of Nabuchodonosor, repurchased the shop to make it a more modern and convivial address. But the spirit remains the same one: a very fine collection of Bordeaux, vintage Champagnes, wines from great or small producers, old or new generation with new techniques..
The place is designed, you can have a seat and take time to find your bottle..
Nice ambiance!!
There is another Cavestève in Paris called « Cavestève Longchamp » on 15 rue de Longchamp - 75116 Paris- Tél. : 01 47 04 01 45
Cavestève
Address :
10 rue de la Cerisaie
Zip code :
75004
City :
Paris - France
Area :
Marais, Notre-Dame
Website :
Cavestève - Paris
Opening hours :
10am to 1pm and from 4pm to 8pm - Satrurday from 10am to 8pm - Closed on Sunday
Phone :
01 42 72 33 05
Metro/Bus :
Bastille, Sully-Morland
Your comments : Cavestève