Berluti Paris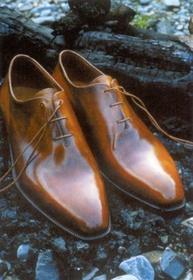 Berluti Shoes in Paris
Since 1895, Berluti offers shoes with a unique cut and patina for clients such as Andy Warhol or James de Rothschild, pret à chausser shoes are 600€, 700€ or 800 €, made-to-measure shoes are 2300€ and take about one month.. Since 1993 Berluti is part of LVMH group.
Visit the historical shop Rue Marbeuf to discover the latest lines by Olga Berluti: Démesures, Bottier, Dandy Sauvage, Elégante, Tatoués, Guerrier, Esprit de la Couture, Lasso..
About the most truly elegant footwear for men in Paris...
Berluti Paris
Address :
26 rue Marbeuf
Zip code :
75008
City :
Paris - France
Area :
Champs-Elysées, Arc de Triomphe
Website :
Berluti - Paris
Opening hours :
Mon-Sat 10am-7pm
Phone :
+33-1-4359 5110
Metro/Bus :
Franklin-Roosevelt - Alma