Alexandra Sojfer - Paris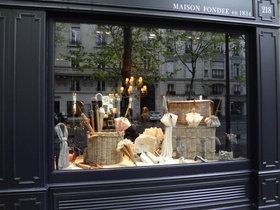 Become Parisian chic with a frivolous, frilly, fantastical or frightfully fashionable umbrella (parapluie), parasol or walking cane, handcrafted by Alexandra Sojfer at this parapluie -packed St-Germain boutique, in the trade since 1834.
Some days you want a three-dollar collapsible umbrella, just to stay dry. Other days, you want a blood-red ruffled parasol with a silver handle in the shape of a bulldog's head, say. Or something in turquoise taffeta, festooned with lace and Swarovski crystals, perfect if you're Marie-Antoinette going for a light stroll in the gardens.
For that, you call on Alexandra Sojfer, whose grandfather Georges Gaspard fled Hungary for Paris in 1937 and began handcrafting umbrellas in his atelier.
The boudoir-ish boutique is an experience unto itself. Like the pieces she creates, it's dripping in froufrou detail and umbrellas of every possible shape and texture.
Alexandra Sojfer - Paris
Address :
218 Boulevard Saint-Germain
Zip code :
75007
City :
Paris - France
Area :
Saint-Germain-des-Prés / Quartier Latin
Email :
alexandra
SPAMFILTER
@sojfer.com
Website :
Alexandra Sojfer - Paris
Opening hours :
Monday to saturday from 10am to 7pm
Phone :
01 42 22 17 02
Metro/Bus :
Sèvres - Babylone
Your comments : Alexandra Sojfer