Céline - Paris
Céline - Paris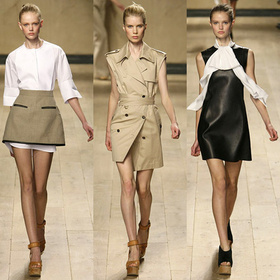 Céline is a French luxury house founded in 1945 by Céline Vipiana. Beautiful classical lines and styles, history of classical designs that withstand time.
Celine introduced its first ready-to-wear line in the 1960's.
Celine has become a luxury brand, offering a sophisticated, urban and practical range of design dresses. Celine continues and remains a safe bet in terms of elegance ..
The refinement of his creations, named after fairy tales - gives each of its designs a separate brand, intriguing and desirable.
Celine Vipiana believes that the modern woman does not need eccentricity, but fashion that enhances the person.
Celine finery has adorned the most chic ladies ever. Since the release of the clothing line, the label has continued to soar and is currently one of the most popular designer brands in the fashion industry.
Today, its product lines include men's and women's ready-to-wear, accessories and fragrance.

Celine Spring Summer 2010-2011 Fashion show
Céline Shops in Paris
CELINE 58 rue de Rennes 75006 Paris 01 45 48 58 55
CELINE 3 avenue Victor Hugo 75016 Paris 01 45 01 80 01
CELINE 36 avenue Montaigne 75008 Paris 01 56 89 07 92
Galeries Lafayette Haussmann Espace Maroquinerie 75009 Paris 01 53 16 17 74
Galeries Lafayette Haussmann Espace Souliers 75009 Paris 01 48 78 20 33
Galeries Lafayette Haussmann Espace Prêt à Porter 75009 Paris 01 40 07 50 96
Le Bon Marché Espace Mode, 1er étage, 24 rue de Sèvres 75007 Paris 01 45 49 19 58
Printemps Haussmann Espace souliers 75009 Paris 01 42 82 57 77
Printemps Haussmann Espace luxe 1er étage 75009 Paris 01 42 82 46 03
Céline - Paris

Address : 58 rue de Rennes
Zip code : 75006
City : Paris - France
Area : Saint-Germain-des-Prés / Quartier Latin
Phone : 01 45 48 58 55