Chloé - Paris
Chloé - Paris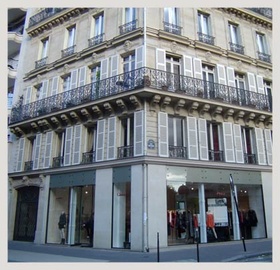 Gaby Aghion started Chloé in 1952 with a vision she called "luxury prêt-à-porter."
Chloé is founded in 1952 by Gaby Aghion, an Egyptian-born Parisienne with a dark beauty and a bohemian spirit. Rejecting the stiff formality of the 50's fashion, she creates soft, body conscious clothes from fine fabrics and called them "luxury prêt-à-porter". Unique for their time, they are beautifully made clothes available off the rack.
On March 10, 2008, Hannah MacGibbon is named Creative Director and becomes part of the Chloé Design legacy. She brings her overall creative vision to the brand through femininity and sophistication whilst preserving Chloé's tradition and luxury know-how.
More than fifty years after Gaby Aghion imagined it, Chloé's vision of romantic, ultra feminine fashion lives on.
The French brand, has always been associated with easy elegance and bohemian chic.
Jackie O. and Grace Kelly were early clients, and today the brand counts Kate Moss and Sienna Miller among its loyalists.
Ready-to-Wear, bags & accessories, shoes, eyewear, beachwear, children's wear, fragrance...
Chloé - Spring Summer 2011
Other Chloé shops in Paris
54 Rue du Faubourg Saint-Honoré, Paris - 01 44 94 33 00
40 Rue Jean-Baptiste Pigalle, Paris - 01 48 78 12 65
Chloé - Paris
Address :
44, avenue Montaigne
Zip code :
75006
City :
Paris - France
Area :
Saint-Germain-des-Prés / Quartier Latin
Website :
Chloé - Paris
Phone :
+33 1 47 23 00 0