Heimstone - Paris
Heimstone - Paris
Alix Petit was born in 1983 in Paris.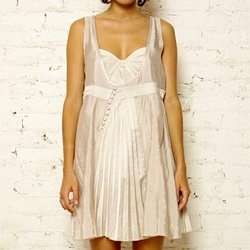 After working for a year at Michel Klein, together with her friend Delphine Delafon, decided to create their own womenswear brand, Heimstone.
The master piece of the Heimstone collection revolve around the use of fabrics such as leather and silk, adorned by original details such as bolts, and studs, creating unique leather jackets, dresses, tee-shirt, belts, jewels and bags.
Uma Thurman bought one of their bathing suit designs from a friend of theirs and the French actress Charlotte Gainsbourg is a fan.
Heimstone - Paris
Address :
23 rue du Cherche-Midi
Zip code :
75006
City :
paris - France
Area :
Saint-Germain-des-Prés / Quartier Latin
Email :
contact
SPAMFILTER
@heimstone.com
Website :
Heimstone - Paris
Phone :
+33 1 45 49 15 73
Metro/Bus :
Sèvres - Babylone
Your comments : Heimstone