Louis Vuitton in Paris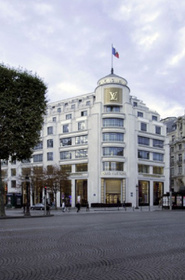 Louis Vuitton flagship store in Paris.
At Louis Vuitton it all started with the world-famous LV-initialled travel goods, but the range of leather accessories has grown considerably since then as well as the fashion collection by designer Marc Jacobs.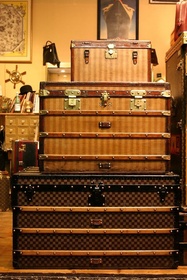 Louis Vuitton is one of the oldest names in the business. In 1854, Louis Vuitton opened his first store in Paris, hawking finely made trunks, hat boxes, and other luxury luggage for the well-traveled set. By 1888, he had his signature brown and tan checked pattern, and by 1896, the now iconic monogram that peppers its supple leather goods, including some instantly collective women's bags—the Speedy, the Steamer, the Pochette—appeared. Amazingly, the company didn't tap into the ready-to-wear business until 1997 when New York designer Marc Jacobs joined, immediately adding an incredibly lucrative clothing business while bringing Vuitton up-to-date by collaborating with such artists as Stephen Sprouse (who irreverently graffitied bags) and later Takashi Murakami (who added a bubble-gum anime humor to the line). Today, the label encompasses ready-to-wear, watches, jewelry, beauty, home, and, of course, that want-worthy luggage.
Other Louis Vuitton shops in Paris:
22 Avenue Montaigne, Paris - 01 44 13 22 22
6 Place Saint-Germain des Prés, Paris - 01 45 49 62 32
174 Boulevard Saint-Germain, Paris - 01 45 49 14 98
Place Saint-Germain des Prés, Paris - 01 45 49 62 32
5 Rue Babylone, Paris - 01 45 44 95 20
Louis Vuitton in Paris
Address :
101 avenue des Champs-Elysées
Zip code :
75008
City :
Paris - France
Area :
Champs-Elysées, Arc de Triomphe
Website :
Louis Vuitton - Paris
Opening hours :
Mon-Sat 10am-8pm - Sunday 11am 7pm / Open everyday except New Year (1st January) & Labour Day (1st May).
Phone :
01 45 49 62 30
Metro/Bus :
George V

Your comments : Louis Vuitton