Paris Charles de Gaulle International Airport CDG
The most complete guide to Paris Charles de Gaulle International Airport
Charles de Gaulle International Airport (CDG) or in French: Aéroport Roissy-Charles de Gaulle), also known as Roissy Airport (or just Roissy in French), in Paris, is one of Europe's principal aviation centres (second by its traffic, just behind London Heathrow Airport in 2005) , as well as France's main international airport.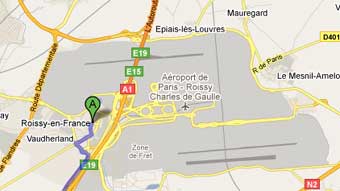 It is named after Charles de Gaulle (1890-1970), leader of the Free French Forces and founder of the French Fifth Republic.

Charles de Gaulle International Airport is located near Roissy, 25 km to the north-east of Paris.
View direction from Charles de Gaulle Airport to Paris
In this heading we will help you find answers to most frenquently ask questions about Charles de Gaulle Airport. Follow the pilote!!!

Find all Airlines and their terminals at Charles de Gaulle Airport

Charles de Gaulle airport Terminal Maps: Boutiques, boarding areas, services, car parks… everything you need to easily find your way around the terminals

Departing flight schedule and arriving flight schedule at Charles de Gaulle airport

Charles de Gaulle airport car parking rates: for short and long term stay

Paris Charles de Gaulle Airport for Disabled people and reduced mobility passengers
Your comments : Paris Charles de Gaulle Airport