Le Café Marly in Paris (at the Louvre)
Le Café Marly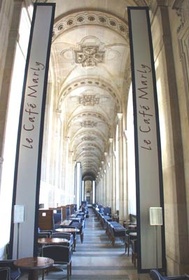 Before or after visiting the Louvre Museum make a pit stop at Le Café Marly !!
On the terrace on the Cour Napoléon, under the sun have a very tasty club-sandwich (14euros) and a café (4euros).
Inside of the café, glass walls are all that seperate the salon from sculpture and works of art in the Louvre itself.
Located in the Richelieu wing in front of the Pyramid you cannot miss it!! Known to be a trendy place..
The Pyramid is no more than 50 yards away
Le Café Marly in Paris (at the Louvre)

Address : 93, rue de Rivoli
Zip code : 75001
City : paris - France
Area : Louvre, Opéra, Chatelet
Opening hours : every day from 8am to 10pm
Prices : 15 euros
Phone : +33 (0)1 49 26 06 60
Metro/Bus : Palais Royal - Musée du Louvre
Your comments : Cafe Marly Louvre