The Louvre museum in Paris
The Louvre Museum - Paris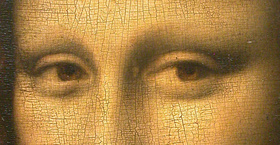 Largest museum of France, The Louvre Museum (Le Musée du Louvre in French) presents collections of western art from the Middle Ages to 1850, and the antique civilisations that have preceded and influenced this art.
They are divided into 8 departments : Oriental Antiquities, Islamic Art, Egyptian Antiquities, Greek, Etruscan and Roman Antiquities and, for the modern period, Paintings, Sculptures, Art items, Prints and Drawings until 1848. In addition to these departments, the museum presents a section devoted to the history of the Louvre, including the medieval moats erected by Philippe Auguste in 1190.
21 new rooms have been dedicated to collections of Italian and Spanish paintings dating back to the XVIIth and XVIIth centuries.
Visit The Louvre Museum Art Collection photo tour
Let's not forget, the ever so famous masterpieces: the Venus of Milo, the Winged Victory of Samothrace, the Mona Lisa of Leonard da Vinci, and so many others.

Open to all since 1793, the Louvre has embodied the concept of a truly "universal" institution. Universal in the scope of its collections, it is also universal in its appeal to some 6 million visitors every year!!
The Louvre, in its successive architectural metamorphoses, has dominated central Paris since the late 12th century. Built on the city's western edge, the original structure was gradually engulfed as the city grew. The dark fortress of the early days was transformed into the modernized dwelling of François I and, later, the sumptuous palace of the Sun King, Louis XIV.
The demolition of the Tuileries in 1882 marked the birth of the modern Louvre. The palace ceased to be the seat of power and was devoted almost entirely to culture. Only the Finance Ministry, provisionally installed in the Richelieu wing after the Commune, remained. Slowly but surely, the museum began to take over the whole of the vast complex of buildings.
The museum has the "Tourisme et Handicap" label for physical and mental disabilities, and hearing impairment. A special map shows disabled people how to move around the museum (18 lifts, 20 platforms). Totally practicable for people of limited mobility and acknowledged as such by the Parisian delegation member of the Association des Paralysés de France. Tactile space. Documentation in Braille. Visits-conferences in sign language are proposed each month for deaf people. Tel: 01 40 20 59 90; handicap@louvre.fr
The Louvre museum in Paris
Address :
4 Place du Louvre
Zip code :
75001
City :
Paris - France
Area :
Louvre, Opéra, Chatelet
Website :
The Louvre Museum - Paris
Opening hours :
Monday, Thursday, Saturday, Sunday: from 9 a.m. to 6 p.m. - Wednesday, Friday: from 9 a.m. to 10 p.m. - closed on Tuesday
Prices :
€10: full-day access to the Louvre, except for temporary exhibitions - €11 for temporary exhibitions in the Hall Napoléon.
Phone :
(33) 01 40 20 53 17
Phone 2 :
For handicap special phone number:(33) 01 40 20 59 90
Metro/Bus :
Bus : 21, 24, 27, 39, 48, 68, 69, 72, 76, 81, 95 - Metro : Palais Royal Musée du Louvre