La Perle in Paris
La Perle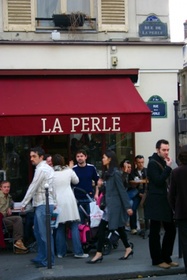 It has become in recent years one of the most accrued spots in the Marais. Crowded Friday and Saturday night. A mix of genres.
During warm months the action spills onto the sidewalk.
You drink a cocktail, you discuss, you talk to girls/boys, and you watch a lot.
This is a place to be shown...
This hot spot became even hotter when John Galliano, the British fashion's icon's was arrested by French police on February 2011 for alleged assault and making anti-Semitic remarks and was later on suspended by Dior…
Jonh Galliano is living in this district of Paris: Le Marais. A video of this event was also later on realised by the newspapers..
La Perle in Paris

Address : 78, Rue Vieille du Temple
Zip code : 75003
City : Paris - France
Area : Marais, Notre-Dame
Opening hours : Every day
Phone : 01 42 72 69 93
Metro/Bus : Station Saint-Sébastien-Froissart (491 m)/ Station Saint-Paul (523 m)