Marais city visits of Paris and suggested itineraries
The Marais is today a fashionable district, home to many trendy restaurants, fashion houses and the hippest galleries of Paris...
Le Marais "The Marsh" is one of the oldest district of Paris. It spreads across parts of the 3rd and 4th arrondissements in Paris on the Rive Droite or Right Bank. Old buildings from XVIIth century remember us that the Marais was French nobility's favorite place of residence.
Today the Marais has become a fashionable district, home to many trendy restaurants, fashion houses and the hippest galleries of Paris.
It has experienced a growing gay presence since the 1980s with many gay cafés, nightclubs, cabarets and shops. The Marais is also the district of the Jewish community.
It's colorful, trendy and cultural... The place to visit while in Paris!
Remember that:
Museums are open from 10am to 6pm and are closed Monday or Tuesday.
Shops often are open from 9am to 7pm.
Restaurants are open from 11:30am to 2pm and from 7:30pm to 11pm
1 - Pompidou Centre Museum
Address : Place Georges Pompidou
Opening hours : Museum and Exhibitions: 11am to 9pm, (last admissions 8pm), except Tuesdays and May 1.
Phone : Standard : +33 (0)1 44 78 12 33 (recorded message, Sundays and public holidays, and from 7.30pm)
Metro/Bus : M° Rambuteau (lines 11), M° Hôtel de Ville (lines 1 et 11) - RER Châtelet les Halles (lines A et B) - Bus: 21, 29, 38, 47, 58, 69, 70, 72, 74, 75, 76, 81, 85, 96
Centre national d'Art et de Culture Georges Pompidou - Beaubourg Museum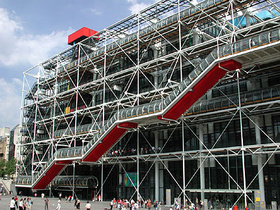 The Centre Pompidou, called as well Beaubourg, was born in February 1977 to focus on all forms of modern and contemporary creation: sculpture, painting, books, cinema, video, performances, music, etc.
The Centre's activities:
- presentation of the permanent collections of the Musée national d'art moderne - Centre de création industrielle (Mnam-Cci),
- exhibits,
- public reading space, provided by the Bibliothèque publique d'information (Bpi),
- performances (theater, dance, music),
- cinema, symposia and debates, and publications.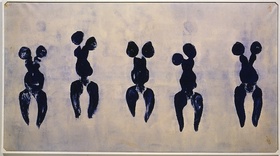 Museum and exhibitions : from 11am to 9pm.
(no ticket sales after 8pm, halls close at 8.50pm).
Night opening on Thursdays until 11pm for certain exhibitions (no ticket sales after 10pm).
The Museum & exhibitions ticket allows you to visit all current exhibitions, the Musée national d'art moderne, the Museum gallery, the Graphic art gallery, the Espace 315, the Children's gallery and the panoramic view of Paris (level 6) on the same day.
Webcams of the Centre Pompidou:
View of the Center's entrance, night and day
One of the finest views of Paris
Inside Beaubourg
Current exhibition :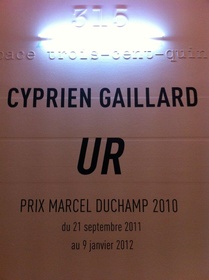 Cyprien Gaillard : "UR"
Marcel Duchamp 2010 Prize winner
From 21/09/2011 to 9/01/2012
11am to 9pm
12€
2 - Picasso Museum
Address : 5, rue de Thorigny
Opening hours : Open from Tuesday to Sunday. Closed on 25th December, 1st January and 1st May. Tuesday – Friday: 11.30am – 6pm Saturday – Sunday: 9.30am – 6pm Open until 9pm every third Friday of the month.
Phone : 01 42 71 25 21
Metro/Bus : Metro: Saint-Paul, Chemin-Vert, Filles du Calvaire - Bus:29, 69, 76, 93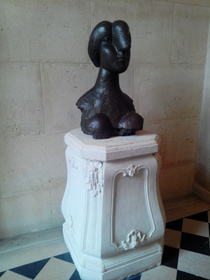 The Musée Picasso is situated in the heart of historic Paris, and has a collection of several thousand works of Pablo Picasso. Picasso was born in 1881 and he began to study art in 1895.
During his life he created diverse works: painting, sculpture, drawing, ceramics, engraving, and even poetry. After his death in 1973, many of Picasso's works went to the French state, which decided to form a museum with the collection.
To house the collection, they chose to use a seventeenth-century hotel, situated in the Marais. This is the Hôtel Salé that was built in 1656 for the general Aubert de Fontenay. Before housing the musée Picasso, the hotel was already well-known. It was leased to the ambassador of Venice, and it became the Central School of Art and Manufacture (and then the School of "métiers d'art"), and finally it was leased to the state in 1975. The restoration of the museum was completed in 1985.
A second restoration was completed in 2014. This is museum we visit today. A Beautiful new space.
Today, there are 203 paintings, 191 sculptures, 85 ceramics, and over 3000 drawings, engravings, and manuscripts in the museum (more than 5000 pieces that would be display from time to time and exhibition to exhibition. Besides the personal collection of Picasso, the museum also has some works of Cézanne and Matisse.
3 - Carnavalet Museum
Address : 23 Rue de Sévigné
Opening hours : from 10 am to 6pm closed on Monday
Phone : 01 44 59 58 58
Metro/Bus : Metro : Chemin Vert, Saint-Paul // Bus : 29, 69, 76, 96
Carnavalet Museum - Paris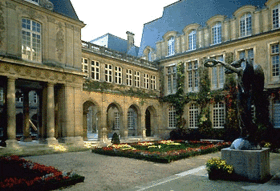 The former 16th century mansion situated in The Marais district of Paris and bought by the City of Paris in 1866 for its historical collections, the Musée Carnavalet offers the visitor a large collection of paintings, drawings, sculptures, prints and decorative arts on the history of Paris since its origins to the present time.
Since 1989, the Musée Carnavalet has been considerably enlarged by the addition of the Hôtel Le Pelletier de Saint-Fargeau, the vast 17th century residence situated at 29 rue de Sévigné presenting the major collections devoted to the revolutionary period as well as works from the 19th and 20th centuries.
4 - Hôtel de Soubise
Address : 60 rue des Francs-Bourgeois
Opening hours : Closed: January 1st, Easter Monday, May 1, 8 May, Whit Monday, Ascension Day, National Day: 14 July, 15 August, 1 November, 11 November and 25 December
Phone : 33 1 40 27 60 97
Metro/Bus : Rambuteau (Line 11) / Métro: St Paul (Line 1)
Hotel de Soubise - Paris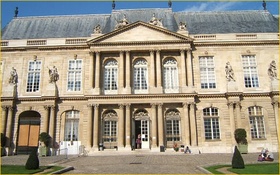 Hotel de Soubise, formerly Hotel de Clisson and Hotel de Guise, is a Parisian mansion on the corner of the existing street des Francs-Bourgeois and Rue des Archives in the 3rd district (the Marais). It is the headquarters of the National Archives which houses the showrooms regarded as the Museum of the History of France.
Your visit takes you into the rooms decorated by Germain Boffrand in a Louis XV style, astounding in their fantasy. The dazzling room of the princess and her room is a real darling oval.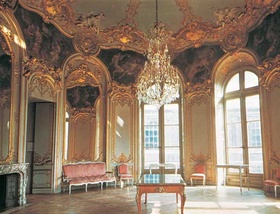 Located within the Hotel de Soubise, the Museum of the History of France was founded by Napoleon III in 1867. It presents some very important documents relating to the history of France.
Five sections articulate your visit around the cabinet Iron French documents, foreign documents, exhibits and artifacts. The museum also organizes exhibitions and conferences and educational workshops.
Therein lies the preserved original Declaration of Human Rights.
5 - Place des Vosges
Address : Place des Vosges
Metro/Bus : Bastille, Saint-Paul, Chemin Vert
Place des Vosges - Paris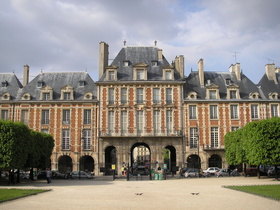 Place des Vosges is the oldest square in Paris. It falls into the Marais, as part of the third and fourth district of the city.
Originally known as "The royal palace" was built by Henry IV, extending the work from 1605 to 1612. With dimensions of 140 x 140 meters, is the first example of urban planning program in Europe.
Inaugurated in 1612 with a big party to celebrate the link between Louis XIII and Anne of Austria, became the prototype of a residential square in Europe.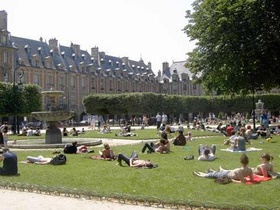 The center of the Place des Vosges is now occupied by Louis XIII Square, lined with rows of trees, with the center four fountains in the midst of lawns and an equestrian statue of Louis XIII. The statue, designed by Jean-Pierre Cortot and Charles Dupaty, was installed in 1825. The first statue dating from 1639 had been destroyed during the Revolution.
The four fountains fed by the Ourcq, were also designed by Jean-Pierre Cortot.
The Place des Vosges is now a peaceful place, a nice central park surrounded by arcades with shops and cafes
6 - Maison Européenne de la Photographie - MEP -
Address : 5 Rue de Fourcy
Opening hours : Every day except monday and tuesday from 11am to 8pm. Ticket sales close at 7:30pm
Phone : 01 44 78 75 00
Metro/Bus : Métro: Saint Paul ou Pont Marie // Bus: 67, 69, 96 ou 76 // Vélib' : Station n°4010 : 105-109 Terre plein Saint Paul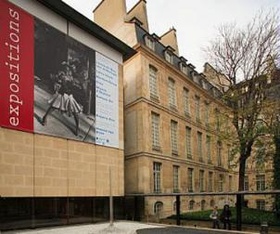 The Maison Européenne de la Photographie known as MEP, is a major centre for contemporary photogtraphic art.
This place is known its excellent exhibitions all year long.. And for having a its own collection of contemporary photographs with famous names like: Jeanloup Sieff, Josef Kouldeka, Larry Clark, Pierre Molinier,
Helmut Newton, Joan Fontcuberta, Araki, martin Parr…
Situated in the heart of the Marais next to metro Saint-Paul it should be one of your cultural stops when in this area.
Check their programming...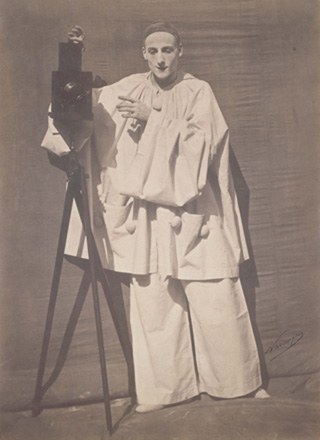 Current exhibition:
L'objet photographique
Une invention permanente
20 April - 19 June 2011
Today, the technical possibilities of photography have become extremely diverse. Traditional processes, often little understood even today, are being replaced by digital or hybrid technologies that are sometimes hard for the general public to grasp. With today's photography rediscovering alternative traditional techniques, it is vital to analyse the technical knowledge that helps us to understand the exact nature of photographic works, both past and present.
This exhibition looks at photographic devices (pinhole cameras, lenses, etc) and the processes that are used to produce or modify photographs: (direct positives, negatives, printing, etc), all of which make up the material history of photography. After visiting this exhibition, which creates a dialogue between vintage and contemporary images and which spotlights the photographer's studio, visitors will be in no doubt that every 'photographic object' is truly unique.
Your comments : Marais pompidou picasso musuem