Le Batofar - Paris
Le Batofar started the "night club on boat" trend in Paris. This lighthouse boat offers an original setting on the bank of the Seine. It is known for its progressive musical programming which champions cutting edge electro bands live, and its renowned DJ-driven afterhours dance parties. During the day, Batofar is also a community gathering that serves as a restaurant, café and a summertime "beach" hang-out (Paris-Beach).

This red-metal tugboat has a rooftop bar that's great in summer, while the club underneath provides perfect acoustics between its metal walls and portholes.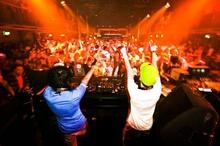 Le Batofar is known for its edgy, experimental music policy and live performances, mostly electro-oriented but also incorporating hip-hop, new wave, rock, punk or jazz. Sometimes it doesn't open till 10pm.
Arrive early as it is on a real boat and capacity fills quickly.
A splendid place on the shores of La Seine : a boat where you can eat, drink, dance (electronic music)... And during daytime, you may also have a drink just in front of the boat.
We suggest to check the program.
Le Batofar - Paris
Address :
Port de la gare
Zip code :
75013
City :
Paris - France
Area :
No location
Email :
yann
SPAMFILTER
@batofar.org
Website :
Le Batofar - Paris
Opening hours :
Check the program
Phone :
+33 (0)9 71 25 50 61
Metro/Bus :
Bibliothèque (14) or Quai de la Gare (6) / Bus 325, 89, 64
Your comments : Le Batofar