Le Cab - Paris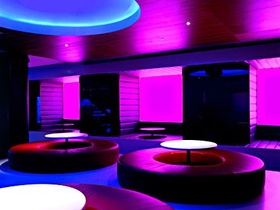 Le Cab, for Cabaret, is the reference of glamour in what it can do of better.
Decoration is a kind of creative lounge and spacy sulphurous bedding designed in 2003 by Ora Ito who transformed it into a colorful, sumptuous underground spaceship. Corian walls and large mirrors reflect ever-changing colors on the main dance floor, while the myriad alcoves surrounding it are leather-lined for added intimacy. Ito's design helped Le Cab double admissions in one year.
Beautiful girls, VIP and " le Fric c'est Chic! ", Very good programming..
Also a restaurant which is quite good as well..
Quite difficult to enter.
Video: A night at Le Cab
Le Cab - Paris
Address :
2, place du palais royal
Zip code :
75001
City :
Paris - France
Area :
Louvre, Opéra, Chatelet
Email :
info
SPAMFILTER
@cabaret.fr
Website :
Le Cab - Paris
Opening hours :
from 1am to...
Phone :
+33 (0)1 58 62 56 25
Metro/Bus :
Louvre