Colette Paris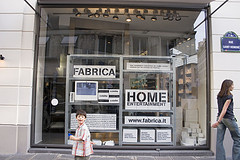 Colette concept store is the Paris' shoppers' paradise for fashionable luxury goods still manages to retain a certain elegance in spite of its flashy, state of the art decor. You will find style design art food beauty party and much more at Colette.
The store's aim is to bring together the most beautiful, most unusual and most expensive designer items. So if you're looking for a Gucci watch, a dress by Jeremy Scott, Chloe Sevigny, Junya Watanabe, Comme des Garçons, Emilio Pucci or make-up from New York, this place is bound to have it. Worth a look is its kiosk containing the latest, most incisive fashion and design magazines, whilst its high-tech cafe downstairs offers over 100 different brands of mineral water.
Colette offers a nice website with great eShop to buy online!!
Colette Paris
Address :
213, rue Saint-Honoré
Zip code :
75001
City :
Paris - France
Area :
Louvre, Opéra, Chatelet
Email :
contact
SPAMFILTER
@colette.fr
Website :
Colette - Paris
Opening hours :
Open from Monday to Saturday 11am to 7pm.
Phone :
+33 1 55 35 33 90
Phone 2 :
Fax: +33 1 55 35 33 99
Metro/Bus :
Tuileries or Pyramides / Bus line 68 or 72