Dior - Paris
Christian Dior - Paris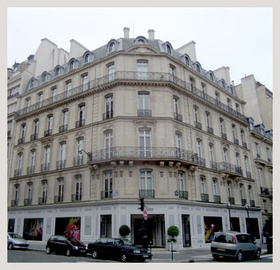 Christian Dior has been called "The most recognized name in fashion".
Christian Dior's reputation as one of the most important couturiers of the twentieth century was launched in 1947 with his very first collection, in which he introduced the "New Look." Featuring rounded shoulders, a cinched waist, and very full skirt, the New Look celebrated ultra-femininity and opulence in women's fashion.
Christian Dior virtually dictated fashion styles in the 1950's. Dior helped to restore a beleaguered postwar Paris as the capital of fashion.
Dior pioneered license agreements in the fashion business. In 1953, he hired Yves Saint- Laurent as an assistant. Saint- became head designer after Dior's untimely death in 1957.
Over the years this famous brand does not solely attract attention through magnificent night dresses, skirts and suits, but also with their impressive shoes, hats, jewels, cosmetic products and very important, perfumes.
The first perfume Miss Dior came out in 1947. It was followed by Diorama (1949), Eau Fraiche, Diorissimo (1956), Eau Sauvage (1956), Diorling (1963), Diorella (1972), Dioressence (1979), Dior Dior and Jules.
Famous and valued are the perfumes Dune, Fahrenheit, J'Adore, Dolce Vita, and Addict.
Despite some ups and downs over the years, Dior is still considered as one of the most popular and innovative Fashion Houses in the world.
Some well known clients are Rita Hayworth, Marilyn Monroe, Princess Diana, Sharon Stone, Charlize Theron, Dita Von Teese, Gwen Stefani
Other Dior shops in Paris
DIOR
25, Rue Royale
75008 PARIS
Phone: 01 53 05 51 61
BABY DIOR
26- 28, Avenue Montaigne
75008 PARIS
Phone: 33 01 49 52 04 50
DIOR
16, Rue de l'Abbaye. Saint Germain des Près
75006 PARIS
Phone: 33 01 56 24 90 53
DIOR
30, Avenue Montaigne
75008 PARIS
Phone: 33 01 40 73 54 00
MULTI-BRAND STORES
PRINTEMPS HAUSSMANN
64, Boulevard Haussmann
75009 PARIS
Phone: 01 4282 5787
LE BON MARCHÉ
24, Rue de Sèvres
75007 PARIS
Phone: 33 01 44 39 80 00
GALERIES LAFAYETTE PARIS HAUSSMANN
40, Boulevard Haussman
75009 PARIS
Phone: 01 42823456
KABUKI
13, Rue de Turbigo
75002 PARIS
Phone: 33 01 42 36 44 34
KABUKI
25, Rue Etienne Marcel
75001 PARIS
Phone: 33 01 42 33 55 65
KABUKI
21, Rue Etienne Marcel
75001 PARIS
Phone: 33 01 42 33 13 44
FRANCK ET FILS
80, Rue de Passy
75016 PARIS
Phone: 33 0 1 44 14 38 00
COLETTE
213, Rue Saint Honoré
75001 PARIS
Phone: 33 1 55 35 33 90
Dior - Paris
Address :
33 Avenue Hoche
Zip code :
75008
City :
Paris - France
Area :
Champs-Elysées, Arc de Triomphe
Website :
Dior - Paris
Opening hours :
from 10am to 7pm - Closed Sunday
Phone :
01 49 53 88 88
Metro/Bus :
Charles de Gaulle - Étoile