Pierre Hardy - Paris
Pierre Hardy - Paris
Pierre Hardy completes the triumvirate with Frisoni and Louboutin of Paris shoe designers.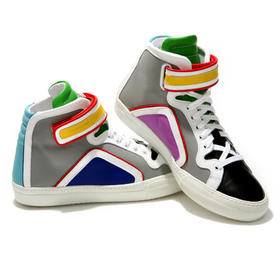 He creates footwear comparable to miniature architecture with clean lines and sculptural volume that tend towards simplicity. The result is a strong style that is equal parts graphic and sensual.
For spring 1999, Pierre Hardy created his first collection of women's shoes under his own name. In 2002 and 2006, respectively, he followed up with men's and bag lines.
The shoes are unmistakable: sky-scraping platforms and wedges double as sculpture with their breathtaking details. His sensational bags, introduced in 2006, became instant classics.
Pierre Hardy - Paris
Address :
156 gallerie de Valois - Palais Royal
Zip code :
75001
City :
Paris - France
Area :
Louvre, Opéra, Chatelet
Email :
palaisroyal
SPAMFILTER
@pierrehardy.com
Website :
Pierre Hardy - Paris
Opening hours :
Mon — Sat : 11am - 7pm
Phone :
+33 1 42 60 59 7
Metro/Bus :
Palais Royal Musée du Louvre
Your comments : Pierre Hardy