Christian Louboutin - Paris
Christian Louboutin - Paris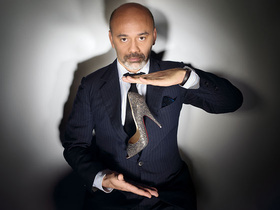 Christian Louboutin is a footwear designer who launched his line of high-end women's shoes in France in 1991. Since 1992, his designs have incorporated the shiny, red-lacquered soles that have become his signature.
This cozy store displays one-of-a-kind shoes in an intimate, exhibit-like environment. The designer is a true artist who has created such masterpieces as sexy red-soled shoes and '80s-inspired black and gold knee boots. If you can't find the perfect shoe, Christian Louboutin will custom-design one for you.
Not only are the red-soled heels beautifully crafted and flattering, somehow the designer's creations manage to be comfortable, too. With shoes lovingly presented on illuminated shelves, Louboutin's Left Bank boutique looks more like an art installation than a shop.
The famous red-soled heels !!!
Find also Christian Louboutin:
68 rue du faubourg St Honoré
75008 Paris
tel: +33 (1) 42 68 37 65
fax: +33 (1) 40 07 50 54
Christian Louboutin - Paris
Address :
19, Rue Jean-Jacques Rousseau
Zip code :
75001
City :
Paris - France
Area :
Louvre, Opéra, Chatelet
Website :
Christian Louboutin - Paris
Opening hours :
From 10:30a.m. to 7:00p.m. closed Sundays
Phone :
33 1 42 36 05 31
Metro/Bus :
Palais Royal Musée du Louvre

Your comments : Christian Louboutin