John Galliano
John Galliano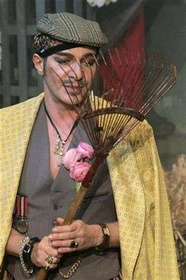 JOHN GALLIANO (Born in Gibraltar in 1960) is one of the most influential fashion designers of our time. Born in Gibraltar, he grew up in London and launched his own label in 1984.
John Galliano has created the most spectacular fashion shows of our time.
In 1995, Galliano was appointed chief fashion designer at Givenchy, becoming the first British fashion designer to head a French fashion couture house. He grabbed headlines with a series of risqué designs aimed to transform the profile and fortunes of the back-dated company.
A year later, in 1996, Galliano was awarded the glittering prize of the house of Christian Dior – Givenchy's stablemate at LVMH. His first couture show for Dior coincided with the label's 50th anniversary, 20 January 1997.
Superb tailoring and delicate detail are his trademarks, he now creates six couture and ready-to-wear collections a year for Dior as well as his own label.
More than any other designer working today, John Galliano is responsible for the sheer and sexually frank clothing so many women wear.
John Galliano - Spring Summer 2011
John Galliano
Address :
384 Rue St Honoré
Zip code :
75001
City :
Paris - France
Area :
Louvre, Opéra, Chatelet
Website :
John Galliano - Paris
Phone :
01 55 35 40 40
Metro/Bus :
Madeleine
Your comments : John Galliano