KENZO - Paris
KENZO - Paris
While Kenzo himself may have retired from designing almost a decade ago, in recent years Sardinian Antonio Marras has brought a new joie de vivre to the label.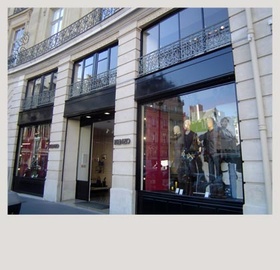 The Pont Neuf flagship store, which shares the same building as the Philippe Starck–designed Kong, is spread over three floors and is a tantalising temple to fashion and beauty.
Since its first, quasi-confidential collection in April 1970, the Kenzo fashion label, alchemy of the Orient and the West, has been a veritable firework of colors, materials and textures to blend Kenzo's natural Japanese influences with Parisian culture. In 1983, Kenzo launched menswear, and five years later, the first Kenzo fragrance was introduced, starting a highly successful series of fragrances and skin care. Louis Vuitton Moët Hennessy bought the label in 1993, and the next year the house covered the Parisian Pont Neuf Bridge in 10,000 flowers. At the age of 60, Takada announced his retirement in 1999.
Considered a Wunderkind and celebrity in 1970s fashion, Kenzo never fixed on one look, but preferred to view fashion as a creative, continuous adventure.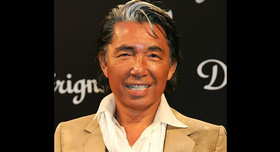 Kenzo Takada - the label's creator and inventor of new techniques such as cut knit - was the first to introduce the concept of volume and freedom of movement into clothing. Before leaving the House in 1999, he has inspired the creation teams with these amazing associations of colours, materials and prints that convey KENZO's values: freedom, cheerfulness and generosity.
Now present in 250 outlets, Kenzo designs include women, men and children's ready-to-wear, active sportswear, fashion accessories, fine leather goods, perfume, and home decoration and furnishing.
Kenzo, Paris Fashion Week
Kenzo stores in Paris
KENZO - Man & Woman
1, rue du Pont Neuf
75001 - Paris
(+33) 1 40 28 11 80
KENZO - Man & Woman
3, place des Victoires
75001 - Paris
(+33) 1 40 39 72 03
KENZO - Man & Woman
27, boulevard de la Madeleine
75008 - Paris
(+33) 1 42 61 04 14
KENZO - Woman
60-62, rue de Rennes
75006 - Paris
(+33) 1 45 44 27 88
KENZO - Man & Woman
16, boulevard Raspail
75007 - Paris
(+33) 1 42 22 09 38
KENZO - Man & Woman
51, avenue George V
75008 - Paris
(+33) 1 47 23 33 49
MULTI-BRAND STORES
Galeries Lafayette - Man
40, boulevard Haussmann
75009 - Paris
(+33) 1 42 82 85 79
Galeries Lafayette - Woman
40, boulevard Haussmann
75009 - Paris
(+33) 1 42 80 38 74
Le Bon Marche - Man
22, rue de Sèvres
75007 - Paris
(+33) 1 44 39 80 00
Le Bon Marché - Woman
24, rue de Sèvres
75007 - Paris
(+33) 1 45 49 13 97
Madelios - Man
23, boulevard de la Madeleine
75001 - Paris
(+33) 1 53 45 00 00
Printemps - Man
64, boulevard Haussmann
75009 - Paris
(+33) 1 42 82 52 57
Printemps - Woman
64, boulevard Haussmann
4e étage
75009 - Paris
(+33) 1 42 82 53 86
KENZO - Paris
Address :
1, rue du Pont Neuf
Zip code :
75001
City :
Paris - France
Area :
Louvre, Opéra, Chatelet
Website :
Kenzo - Paris
Phone :
(+33) 1 40 28 11 80
Metro/Bus :
Pont Neuf,