Kitsune - Paris
Kitsune - Paris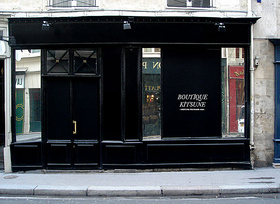 Kitsuné was born in Paris, lives in Paris and lives for Paris. Kitsuné Parisien is the latest clothing line designed by Kitsuné, available in a unique and Parisian store. Kitsuné Parisien, is located at the corner of passage Beaujolais and 52 rue de Richelieu, in the first district of Paris. Kitsuné Parisien also includes every season, fine and fancy brand new collector items, high quality garments, wrapped in their Parisian boxes.
Kitsuné Parisian boutique, it's the fashion temple for the ongoing season where to be seen... and for those who want to pick up pure Parisian chic. They sell polos...sold in a great looking cardboard box to casually leave around your living room.
Buying a Kitsuné polo, is the proof by 3 that you are a super-fashionista surfing on the new bourgeois trend of the season-without taking any inconsiderate fashion risk such as a total leather look...
Kitsune began life as pioneers on the music scene, launching their own super-cool record label before moving on to casualwear and a by-appointment-only store. This, their flagship (open to all, phew), has a nice, old-school aesthetic which eschews the over-designed industrial style interiors of other high-end boutiques, instead choosing to lay out its classic wares in clean white interiors. The store stocks the Kitsuné men's and women's collection, the Richelieu collection exclusive to the store, Kitsuné x Pierre Hardy footwear, Kitsuné x Schiesser underwear, James Heeley x Kitsuné candles and of course Kitsuné Music. A hit record if ever we heard one.
Kitsune - Paris
Address :
52 Rue de Richelieu
Zip code :
75001
City :
Paris - France
Area :
Louvre, Opéra, Chatelet
Email :
52richelieu
SPAMFILTER
@kitsune.fr
Website :
Kitsune - Paris
Phone :
01 42 60 34 28
Metro/Bus :
Pyramides [M7, M14]