Repetto - Paris
Repetto - Paris
Famous ballet shoes brand in a very chic street of Paris.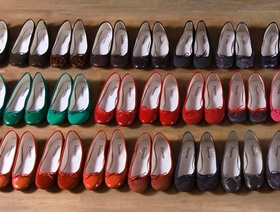 Repetto is an institution in Paris and while most associate this brand with cute ballerina shoes in various colors, there is much more to it.
These days, the flagship boutique is still a must for anyone who loves cute shoes. The shop also still caters to prestigious institutions such as the Opéra National de Paris or the Opéra de Lyon.
The range of shoes includes the classic ballerina flats, as well as high-heeled sandals and colorful booties.
The shoes' popularity is not solely due to their cuteness (although they're very cute), but also to the fact that they are made by hand in relatively small batches.
The boutique also stocks other ballerina essentials, such as tutus, leotards and other apparel, as well as a range of leather bags and smaller accessories.
Repetto - Paris
Address :
22, Rue Paix
Zip code :
75002
City :
Paris - France
Area :
Louvre, Opéra, Chatelet
Website :
Repetto - Paris
Phone :
01 40 07 02 18
Metro/Bus :
Opéra