Paradis Latin in Paris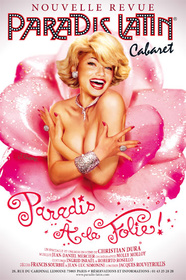 In 1802 Napoleon Bonaparte, then First Consul of France, decided to build a theater on the rue des Fosses-Saint-Victor, at the very spot where once stood, a century before, a fortification known as "the wall of Philippe Auguste." He called it the Theater Latin and celebrated its inaugurated in 1803.
It became a cabaret in 1977 when Jean-Marie Rivière became the artistic director of the cabaret and quickly introduced Paris Paradis, a poetic and burlesque show realized in the collaboration with Simonini and Frederic Pierre Botton. It was an unequivocal success. Paradis Latin was born!!
35 years later the Paradis Latin has dazzled the eyes of 2 million spectators, with 6 shows and over 1600 unforgettable evening performances!
Today show is called "Paradis à la Folie"
Paradis Latin in Paris
Address :
28, rue du Cardinal Lemoine
Zip code :
75005
City :
Paris - France
Area :
Saint-Germain-des-Prés / Quartier Latin
Email :
paradislatin
SPAMFILTER
@paradis-latin.com
Website :
Paradis Latin - Paris
Opening hours :
Show starts at 8pm
Phone :
01 43 25 28 28
Phone 2 :
Fax : 01 43 29 63 63
Metro/Bus :
Maubert Mutualité - Cardinal Lemoine

Your comments : Paradis Latin