Arc de Triomphe - Arch of Triumph Paris
L'arc de Triomphe - The Arch of Triumph in Paris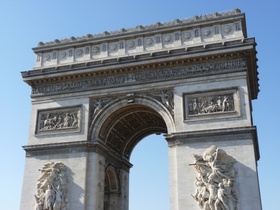 Raised over command of Napoleon Ier, the Arch of Triumph dominates the Avenue of the Champs-Elysées. Its construction began in 1806 and ended in 1836, 15 years after the Napoleon's death.
It is possible to reach the roof of the monument. The perspective of The Louvre - Concorde Square - Grand Arch of Defense is superb. It's one of the most beautifull panorama of Paris.
The site on which the monument stands is called the Place de l'étoile, because of the multicolored star built into the pavement of the roundabout.
The arch is 50 meters high, 45 meters wide, and 22 meters thick and is decorated with low relieves which evoke the battles of the French first Republic and Empire periods (1789-1815). Under the arch, the Unknown Soldier Tomb can be found (a soldier of the First World War).
Arc de Triomphe - Arch of Triumph Paris
Address :
Place Charles de Gaulle
Zip code :
75008
City :
Paris - France
Area :
Champs-Elysées, Arc de Triomphe
Website :
Arc de Triomphe - Paris
Opening hours :
Open every day 1 April to 30 September : 10 am to 11 pm // 1 October to 31 March : 10 am to 10:30 pm // Last admission 30 mins before closing
Prices :
Adults: 9 €/ Concessions : 5,50 €/ Free entry to under 18 year-olds (accompanied by the family or without a school group) / Free entry to 18 to 26 year-olds (European Citizens)/ Adult group rate (minimum 20 people) : 7 € / Visit takes approx. 45 minutes. School group rate : 30 € (maximum 35 students, 2 accompananying adults included, adult group rate for additional accompananying adult)?
Phone :
+ 33 (0)1 55 37 73 77
Phone 2 :
Fax : + 33-144950213
Metro/Bus :
Metro : Charles de Gaulle Etoile lines 1 – 2 – 6 / RER A: Charles Gaulle-Etoile / Bus : 22, 30, 31, 52, 73, 92, et Balabus

Your comments : Arc de triomphe