Palais Garnier - Opéra national de Paris
Palais Garnier - Opéra national de Paris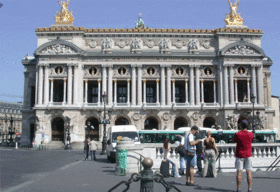 Masterpiece of theatre architecture of the 19th century, the "Palais Garnier", built by Charles Garnier and inaugurated in 1875 is the thirteen opera house to be found in Paris since the creation of this institution by King Louis XIV in 1669.
It's construction was initiated by Napoleon III among important renovation projects conducted under his control by baron Haussmann. An historical monument open to visitors during the day.
It mainly performs opera and ballet works.
Not to be missed : the famous ceiling of the Opera Room by Chagall.
Palais Garnier - Opéra national de Paris
Address :
Place de l'Opéra
Zip code :
75009
City :
Paris - France
Area :
Louvre, Opéra, Chatelet
Website :
Opéra de Paris - Palais Garnier
Opening hours :
10am-4.30pm, and until 5.30pm from July 15th and September 10th.Open/Closed : Closed in the morning for rehearsals and for special events.
Prices :
8 Euros
Phone :
+33 (0)1 41 10 08 10
Metro/Bus :
Metro : Opéra - RER : A: Auber - Bus : 20, 21, 22, 27, 29, 31, 39, 42, 52, 53, 66, 68, 81
Your comments : Palais Garnier Opera national de Paris