Museum Bourdelle in Paris
Bourdelle Museum in Paris
Housed in the studios of the sculptor Antoine Bourdelle (1861-1929) who lived and worked there, this museum houses an outstanding collection of bronzes and marbles.
The workshop has been kept intact, with its high windows and furniture.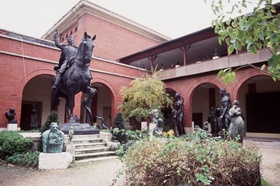 Over 500 works of sculpture in marble, plaster, bronze, polychrome materials, paints, pastels, fresco cartoons for the Theatre des Champs Elysees and the personal collection of Bourdelle fall in the halls and gardens of the museum. The aim is to present the work of Bourdelle in order to show the variety and creative power of it.
It gives an idea of the atmosphere in Montparnasse at the end of the century and into the Roaring Twenties.
The museum gained momentum thanks to the work of architect Henri Gautruche in 1961, a second part was built in 1992 by Christian de Portzamparc.
Museum Bourdelle in Paris

Address : 18, Rue Antoine Bourdelle
Zip code : 75015
City : Paris - France
Area : Saint-Germain-des-Prés / Quartier Latin
Opening hours : Every day except Monday and holidays, from 10 to 18.
Phone : 01 49 54 73 73
Metro/Bus : Montparnasse - Bienvenüe
Your comments : Bourdelle Museum