Jeu de Paume - Paris
Jeu de Paume - Paris
The Jeu de Paume was a French ball game. It is a direct ancestor of tennis, played by two teams passing the ball over a network.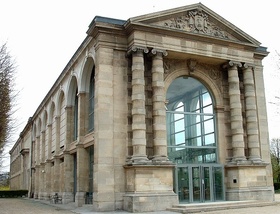 The so called Jeu de Paume in Paris now a days, is a gallery that aims to introduce visitors to the art of the image, the photography called 'history' with the most sophisticated video installations.
Ideally located in Paris, a place which allows visitors a breathtaking view over the city, the Tuileries to the Concorde, Invalides. The art center of the image was first, as its name indicates room, a tennis court ( a Jeu de Paume).

Jeu de Paume produces, coproduces and hosts exhibitions as well as film programmes, symposiums, and public activities, and also pursues a publishing programme. It shows both established figures (Sophie Ristelhueber, Martin Parr, Robert Frank, Jean-Luc Moulène, Bruno Serralongue, Edward Steichen, Richard Avedon, Lee Miller, Lisette Model, André Kertész) and emerging talents (Cyprien Gaillard, Denis Savary, Virginie Yassef, Mario García Torres, Agathe Snow, Tris Vonna-Michell), attracting a considerable and varied public whose interest and support is growing steadily.
Jeu de Paume also supports Internet art on its website.
Jeu de Paume - Paris
Address :
1, place de la Concorde
Zip code :
75008
City :
Paris - France
Area :
Louvre, Opéra, Chatelet
Email :
info
SPAMFILTER
@jeudepaume.org
Website :
Jeu de Paume - Paris
Opening hours :
Tuesday (night): 12h to 21h Wednesday to Friday: 12h to 19h Saturday and Sunday: 10h to 19h Closed Mondays
Prices :
Entrance: 8.50 €
Phone :
01 47 03 12 50
Metro/Bus :
Métro : Concorde (lines 1, 8, 12) Bus : 24, 42, 72, 73, 84, 94
Your comments : Jeu de Paume