Museum of Modern Art - Musée d'Art Moderne de la Ville de Paris -
Museum of Modern Art - City of Paris (Musée d'Art Moderne de la Ville de Paris)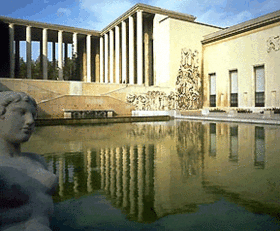 Built on the occasion of the International Exhibition of 1937, the Museum of Modern Art was officially opened in 1961.
To a large extent, it owes its specifically Parisian aspect to the generosity of its donors including Dr Girardin (1953) and Mathilde Amos (1955), Berthe Reysz (1972) Germaine Henry and Robert Thomas (1976-1988) and artists Robert Delaunay, Jean Fautrier and Christian Boltanski.
The museum has major collections of works by Georges Rouault, Robert and Sonia Delaunay, Raoul Dufy, Marcel Gromaire and several monumental paintings notably two of the three Henri Matisse triptychs of La Danse (1931-33) and La Fée Electricité (1937) by Raoul Dufy.
Temporary exhibitions form a major part of the museum's activity. Its "historical" program is alternated with monographic exhibitions devoted to great figures of the French or European scene and major European panoramic events combining the historical and contemporary.
The ARC (workshop for research and creativity) is a highly informative source on national and international current events, organising monographic exhibitions and theme-based events on the most up-to-date trends in contemporary art in France and abroad.
Current exhibition: From september 30, 2011 to January 29, 2012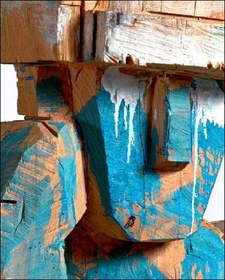 The Musée d'Art Moderne de la Ville de Paris is organising an exhibition of the sculptures of Georg Baselitz . This retrospective interpretation of one facet of the German artist – initially a painter and engraver – will include almost his entire sculptural output, covering a period of more than thirty years.
Few of these works have been shown in France. Now recognised as a part of his oeuvre in its own right, Baselitz's sculpture gradually became more and more monumental in scale.

Rates:
Full rate: 9 €
Concessions: 7 €
Half-price: 4.50 €
Admission free for under-14s
Museum of Modern Art - Musée d'Art Moderne de la Ville de Paris -
Address :
11, avenue du Président Wilson
Zip code :
75016
City :
Paris - France
Area :
Champs-Elysées, Arc de Triomphe
Website :
Musée d'Art Moderne de la Ville de Paris
Opening hours :
Open Tuesday to Sunday from 10am to 6pm. Late opening on Thursdays until 10pm (exhibitions only).
Prices :
Full rate: 11 € // Concessions: 8 € // Half-price: 5,50 €
Phone :
01 53 67 40 00
Metro/Bus :
Metro: Alma-Marceau Pont de l'Alma or Iéna RER C - Buses: 32, 42, 63, 72, 80, 92 - Velib: 2, avenue Marceau
Your comments : Musee Art Moderne de la Ville de Paris