Arnys - Paris
Arnys – Paris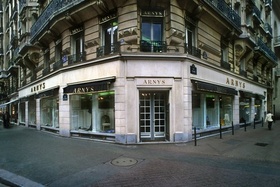 Arnys – Traditional french elegance
Jean Grimbert, and his brother Michel, are the proprietors of Arnys, the high-end clothing boutique in Paris started by their grandfather Jankel Grimbert, in 1933.
The name Arnys, is a name synonymous with elegance and refined menswear in Paris...a Parisian institution.
The incomparable elegance of Arnys is its inspiration drawn from the French costume of the eighteenth and transcended by British tailors in the last century giving it a final touch of nature.
These are some 40 drawings of ties that are offered at each collection in 20 different colors. All clothing made in France or Italy is done by the best tailors and craftsmen. The materials are selected with great care.
Some clients: Sartre, Picasso, Baldwin, Vian, Noiret, Hemingway, Mitterand...
Arnys - Paris
Address :
14 rue de Sevres
Zip code :
75007
City :
Paris - France
Area :
Saint-Germain-des-Prés / Quartier Latin
Email :
info
SPAMFILTER
@arnys.fr
Website :
Arnys – Paris
Opening hours :
Mon, Sat 10:30 am - 6:30 pm
Phone :
+33 (0) 1 45 48 76 99
Phone 2 :
fax: +33 (0) 1 45 48 84 72
Metro/Bus :
Sèvres - Babylone