Carine Gilson - Paris
Carine Gilson - Paris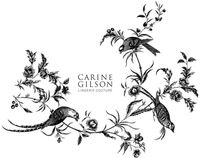 Carine Gilson is one of the very few designers to consider that lingerie is more than a simple accessory or basic item. Nobody does luxurious, silk lingerie like Parisian brand Carine Gilson.
Starting in 1994, Carine Gilson's lingerie is not for the faint of heart. It comes in bright, royal purples, lipstick red, and never skimps on the beautifully-made Chantilly lace.
Made of natural Lyon silk and Chantilly lace, the cheeky range of colours, the most generous cuts, the hand-crafted haute couture; nothing is too much, nor too good, all meticulously crafted and hand-stiched in the Carine Gilson workshop in Brussels.
Carine's aim is achieving perfection in lingerie design
Carine Gilson Lingerie Show
Carine Gilson - Paris
Address :
18 rue de Grenelle
Zip code :
75007
City :
Paris - France
Area :
Saint-Germain-des-Prés / Quartier Latin
Email :
carine.gilson
SPAMFILTER
@carinegilson.com
Website :
Carine Gilson - Paris
Phone :
+33143264671
Your comments : Carine Gilson