Didier Ludot - Paris
Didier Ludot - Paris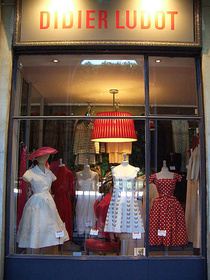 Didier Ludot is vintage heaven, and though you may not be able to afford anything, you will be able to touch, feel, and even try on some of the most exquisite pieces of clothing ever produced.
Ludot, of course, specializes in vintage from French designers such as Chanel, Balenciaga, Givenchy, Balmain, YSL, Lanvin, and Hermes.
Didier Ludot is considered by many an icon in the fashion world, and visiting the different shops is an incredible way to walk through the history of Paris fashion.
Today, anyone who wants to invest in a little bit of vintage glam, will first head to one of the 3 boutiques situated around the Palais Royal.
- 20 Galerie de Montpensier, 75001 Paris, France (Prêt-à-Porter)
- 24 Galerie de Montpensier, 75001 Paris, France (Couture)
- 125, Galerie de Valois, Jardin du Palais Royal, 75001 Paris France (LBDs)
Each of Didier Ludot's three locations at the Palais-Royal specialize in a specific category of clothing: evening couture, ready to wear, and one shop of just little black dresses..
Didier Ludot - Paris
Address :
20 Galerie de Montpensier
Zip code :
75001
City :
Paris - France
Area :
Louvre, Opéra, Chatelet
Email :
didier.ludot
SPAMFILTER
@wanadoo.fr
Website :
Didier Ludot - Paris
Opening hours :
Monday to Saturday from 10:30am to 7pm
Phone :
01 42 96 06 56
Your comments : Didier Ludot