Givenchy - Paris
Givenchy - Paris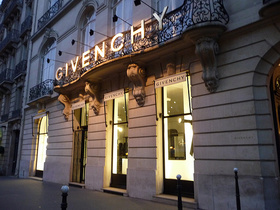 Fashion Designer Hubert de Givenchy was born to a wealthy family 1927 in Beauvais, France. He opened the House of Givenchy in 1952. Givenchy has been a very recognizable name in the fashion industry since then.
In 1954, Givenchy became the first designer to present a collection of luxury women's ready to wear clothing, both audacious and elegant.
The most famous patron was Audrey Hepburn in films such as How to Steal a Million and Breakfast at Tiffany's. Other famous patrons include the Kennedy family, who famously wore Givenchy clothes to the funeral of J.F.K.
Today, Givenchy is an international luxury brand, succeeded by designer John Galliano, known worldwide for its Haute Couture and ready-to-wear collections for men and women, fashion accessories and famous Givenchy perfume.
Givenchy Perfumes launched its firts fragrance line in 1972 with Eau Torride. Like a rare couture gown, Givenchy fragrances are original, artful creations.
GIVENCHY PRÊT-À-PORTER 2011 PARIS
More Givenchy addresses:
28 Rue Fbg St Honoré, Paris - 01 42 68 31 00
56 Rue François 1er, Paris - 01 40 76 00 85
Givenchy - Paris
Address :
3, avenue George-V
Zip code :
75008
City :
Paris - France
Area :
Champs-Elysées, Arc de Triomphe
Website :
Givenchy - Paris
Opening hours :
Monday to Saturday 10am to 7pm.
Phone :
01 44.31.50.00
Metro/Bus :
Alma Marceau,