Guy Laroche - Paris
Guy Laroche - Paris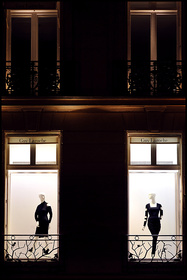 Guy Laroche is a renowned French label that has long been recognized by its signature elegant style. Established in 1956 by Guy Laroche himself, the brand launched its first Ready-to-Wear collection in 1961, and established himself as a skillful tailor and a master cutter in the fashion world.
In 1966, Laroche introduced Fidji, his first women's fragrance; designed men's ready-to-wear; and opened the Guy Laroche Monsieur boutique.
Guy Laroche became known as the designer of real-life fashion and he was the first to introduce "separates" as a collection.
Now, the brand offers the world products that range from fashion, to perfume, watches, leather goods, and home fashion.
Designers of Guy Laroche are well known for mastering the art of playing with form-fitting cuttings, fabrics and stripes to highlight female's bodyline appeal, so the brand has been popular among famous actresses and the celebrities. The Oscar-wining actresses Hilary Swank and Charlize Theron wore the gracefully designed Guy Laroche evening gowns to attend the film awards presentation ceremonies.
Guy Laroche designs for sophisticated, contemporary and elegant ladies with an appreciation for French style. With its two main themes, Guy Laroche Paris Couture, Guy Laroche Femme, the brand offers ladies high-quality fashion for all occasions.
Guy Laroche - PAFW Spring/Summer 2010
Guy Laroche - Paris
Address :
35 Rue François 1er
Zip code :
75008
City :
Paris - France
Area :
Champs-Elysées, Arc de Triomphe
Website :
Guy Laroche - Paris
Phone :
01 40 69 68 00
Metro/Bus :
Franklin D. Roosevelt

Your comments : Guy Laroche