Hermès Paris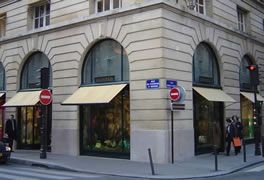 The Hermès main store and headquarters in Paris. To find the silk scarf or the tie you have been looking for years, but also the whole leather range including all equestrian luxury items, bags, belt , perfumes, watches, shoes for men and women and much more..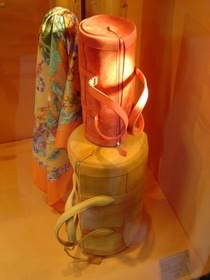 Hermès is a legendary French luxury goods house that was created in 1837.
This house is known for its famous silk scarves (sold every twenty seconds in the world) for its riding gloves, belts, men's and women's sportswear and a long time ago for its travel trunks.
Hermès made fashion history with the Kelly bag in 1956 after Grace Kelly used a large crocodile handbag to hide her pregnancy.
In the seventies, Hermès launched the first women's shoe collection and the first complete men's ready-to-wear collection.
Actress Jane Birkin replaced her old straw purse with a leather Hermès number in 1984, and started the rage that is the Birkin bag. Today the Birkin continues to have the longest waiting list of any luxury accessory—about six years.
Hermès also has a complete home line, bed and bath linens, furniture, silverware, crystal and porcelain, office accessories, and baby gifts.
You can visit the private museum upstairs.
Other Hermès addresses in Paris are:
- 42 Avenue George V, Paris - 01 47 20 48 51
- 16 Rue Grenelle, Paris - 01 53 63 02 19
- 17 Rue de Sèvres, Paris - 01 42 22 80 83
Hermès Paris
Address :
24 rue du Faubourg Saint-Honoré
Zip code :
75008
City :
Paris - France
Area :
Louvre, Opéra, Chatelet
Website :
Hermès - Paris
Opening hours :
Mon 10.15am-1pm, 2.15-6.30pm, Tue-Sat 10.15am-6.30pm
Phone :
01 4017 4717
Phone 2 :
Fax: +33-1-4017 4718;
Metro/Bus :
Madeleine / Concorde