9 days to visit the Salon de l'Agriculture 2013
21 Feb 2013 - 10:38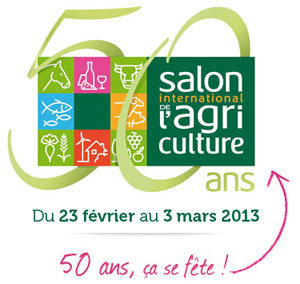 The "Salon de l'Agriculture 2013" opens its door this week-end for 9 days from Saturday 23 February to Sunday 3 March 2013 at the Porte de Versailles in Paris.
This agricultural show celebrates this year its 50th anniversary!
France's largest agricultural event is part fair, part trade show, part blue-ribbon tournament. A dizzyingly diverse array of activities will be on offer, from a sheep-herding competition to performances of traditional music and dance to gardening workshops.
France's finest livestock will be on display: over 3,500 animals, including rare cow breeds like the Bordelaise and Bearnaise, as well as stands featuring produce and farming machinery. Food lovers will be able to sample (and buy) products from this year's winners of the historic Concours Général Agricole, an annual competition of France's signature food and drink products....
Opening hours
Daily from 9 a.m. to 7 p.m., except Friday 1 March from 9 a.m. to 11 p.m. (admission closes at 10:30 p.m.)
Individual rates
Full price: €13
Children aged 6-12: €6
Children under 6: free
Students: €6
Where:
Paris International Agricultural Show
Paris Porte de Versailles
1, place de la Porte de Versailles
75015 Paris
FRANCE
Your comments : 9 days to visit the Salon de l'Agriculture 2013