Le Crazy Horse - Paris
Le Crazy Horse - Paris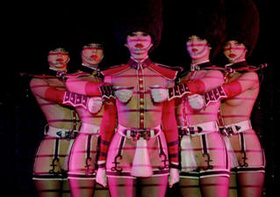 The Art of Nude : A crazy show at the worldwide famous Crazy Horse!
The Crazy Horse has been founded some 50 years ago and remains a highlight of Paris's nights!!
Revue :The Art of Nude
It's the chic-est cabaret show in the world, managing to be both elegant and erotic. It's located in the Golden Triangle, very close to fashion shops as well as the Champs Elysées Avenue. It's been founded in 1951 by Alain Bernardin who created the exceptional style of the Crazy Horse. Since this time, the Crazy Horse has been trendy for Parisians as well as tourists.
From 100 Euros per person with 2 alcohol drinks
Dinner and cabaret show at Le Crazy Horse
Before attending the cabaret show, with the best seats and half a bottle of champagne per person, have a great dinner in typically prestigious Parisian Brasseries "Chez Francis", "De Vez" and "Fouquet's", where you will be proposed a high class menu, with starter, main course, dessert, wine, mineral water and coffee.
The Teasing revue is played by 20 nude dancing vestals. You have more than half an hour to understand how beautiful… and sexy they are. The ballet alternates with solos and international numbers of magic tricks (especially the world famous Vik and Fabrini).
Video: see the Crazy Horse show
Crazy Horse Paris
Uploaded by SelectLive. - Discover new destinations and travel videos.
Le Crazy Horse - Paris
Address :
12, Avenue George V
Zip code :
75008
City :
Paris - France
Area :
Champs-Elysées, Arc de Triomphe
Email :
reservation
SPAMFILTER
@lecrazyhorseparis-paris-paris.com
Website :
Crazy Horse - Paris
Opening hours :
Monday to Friday: 8:30 pm & 11:00 pm Saturday: 7 :30pm, 9 :45pm & 11 :50 pm
Prices :
from 100€
Phone :
+ 33 (0)1 47 23 32 32
Metro/Bus :
Line 9 - Metro Alma Marceau Line 1 - Metro George V - Bus Lines :72. 43. 80. 63. 92. Alma Marceau Stop
Your comments : Le Crazy Horse